Multifamily Building/Ownership (Rental Units)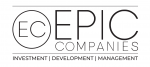 Business Description:
EPIC Companies is an investment, development, and management firm located in West Fargo, ND. The main goal is taking underutilized spaces and developing mixed-use building that create a better quality of life for the community. EPIC Companies currently has 25 employees and has over 20+ buildings in their portfolio. Our management company manages over 800+ residential units and 250,000+ SF of commercial space. EPIC is a proud member of the Minot Association of Builders and is excited to open up Blu on Broadway, an affordable housing mixed-use building located at 1629 S Broadway, in Minot in the spring of 2021.