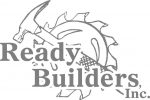 Business Description
Ready Builders, Inc. is a family owned company, which was established in Minot, ND in 1998. Since then, we have been building homes in Minot and
the surrounding areas, specializing in custom homes and small commercial construction. Through working in the industry for 18 years, we have
committed ourselves to providing dependable, trustworthy, and professional craftsmanship.
Each home is important to us. That is why we use quality materials and expert sub contractors with whom we have long term relationships.
Our goal is to provide a sound investment for you and your family to enjoy for many years to come.