Signal Realty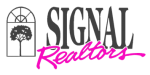 Business Name:
Signal Realty
Business Description:
Find Your Dream Home with Signal Realty
The largest independent locally owned Real Estate Company in Minot, ND. We have been in business since 1963. Our sales staff has over 324 years combined experience in real estate transactions in the Minot & surrounding areas.
Signal has gained its position of prominence in the real estate field through a professional approach to the business of helping people find/buy/sell a home. Our salespeople are equal partners/owners in the company and therefore each realtor has a vested interest in your complete satisfaction. Signal is highly regarded in the real estate field & we are proud of our professional sales team.