701 Realty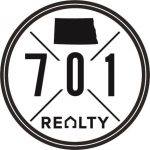 Business Name:
701 Realty
Business Description:
701 Realty, Inc. is a locally owned and operated real estate agency in Minot, ND. The team at 701 Realty are more than real estate agents looking for real estate listings. We are a dedicated team of truly passionate, property professionals who understand our clients' needs and wants. When making property decisions that impact your family now and in the future, you need a 701 Realty partner. We understand that your home is an important part of your life, it houses your family, it's where memories are made and it provides for your future.
While focusing on customer satisfaction first, community is a close second with a percentage of all closings going back to a local charity.