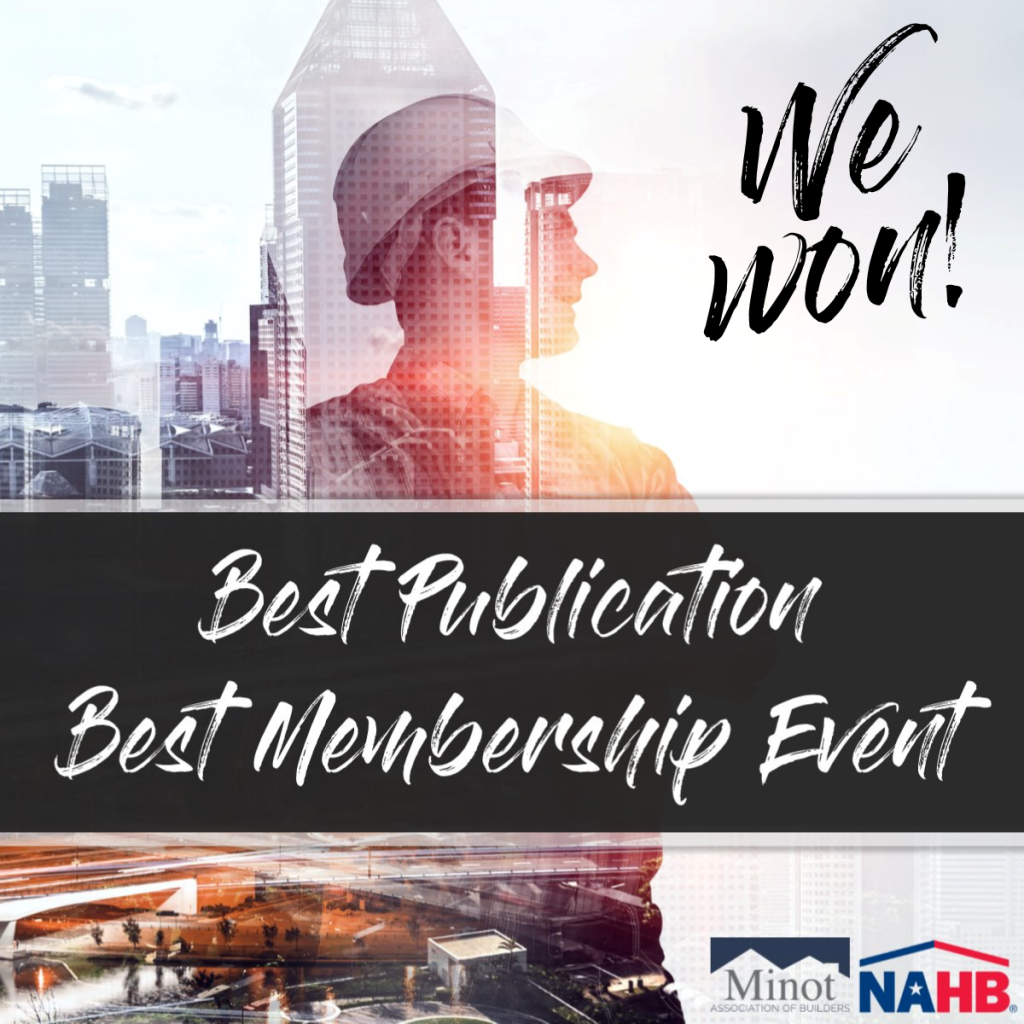 We have BIG news, MAB members!!
The Minot Association of Builders just won TWO national awards from the National Association of Home Builders!
The Association Excellence Awards is an annual program designed to recognize the outstanding accomplishments of state and local home builders' associations and executive officers in the field of association management. "These awards illustrate the innovative programs that HBAs across the NAHB Federation are developing for their members," said Mike Means, EOC President and EVP of the Oklahoma HBA.
HERE IS WHAT WE WON!
—————————————————————————
✅ Best Publication – The MAB Homefront ✅
We're SO proud of the magazine we send to our members! The MAB Homefront is jam-packed with in-depth articles that provide complete, up-to-date information regarding the building industry in Minot, North Dakota and the surrounding areas. The MAB Homefront is the official publication of the Minot Association of Builders (MAB). The MAB Homefront is a high-quality, glossy magazine that is printed and mailed four times per year to its members and others associated with the building industry. It is also viewable in e-magazine format.
Check out the latest issue here: https://minotab.com/newsletter/
✅ Best Membership Event – Builders' Bash! ✅
The Builders' Bash is a culmination of the MAB's awards presentations into one BIG Night. This is where attendees come together to honor the industry, celebrate everything the MAB has accomplished in the past year and recognize the great work its members do by presenting its annual awards while wearing ugly Christmas sweaters! While we're at it, we need to take a minute to recognize Gravel Products Inc. Gravel Products put a HUGE amount of time and effort into hosting the Builders' Bash last year! They deserve just as much credit as we do!
See pictures from the Builders' Bash here:
https://minotab.com/2018-builders-bash-brief/
These awards are such an honor to receive and we can't wait to share them with all of our members!  "The MAB has advanced in so many ways over the past few years and I'm so proud to be a part of the process and now recognition. I can't wait to see where the association goes from here," said MAB Executive Officer Elysha Head.