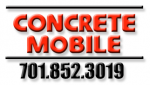 Business Description
Concrete Mobile is a family owned, local North Dakota company that produces quality ready mixed concrete and exceptional customer service throughout the greater Minot area since 1975. We continually strive to utilize high quality raw materials to provide the best concrete available. Our small town values of meeting the customer's needs and building long term customer relationships has not and will never change.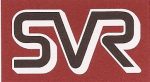 Business Description
Ready Mix Concrete Supplier, Concrete Pumping Service
Souris Valley Ready Mix, LLC
5320 Railway Ave. (Batch Plant)
5140 Hwy. 2 E. (Admin Office)
PO Box 1947  Minot, ND  58702-1947 (Mailing Address)
701-839-6833 (Batch Plant)  701-838-3387 (Admin Office)
Sue Stewart – Cell Phone 701-833-9078
Sue Stewart, General Manager – [email protected]
Deanna Kaylor, Office Manager – [email protected]
Please visit our web site:  www.svrconcrete.com and like us on Facebook too!