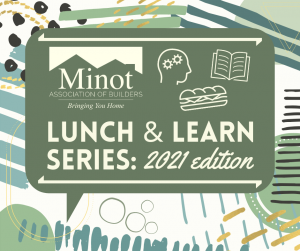 School CTE / Minot Area Career Expo
January 26, 2021 |   NDAB Member Rebate Program, presented by Kim Klein, program administrator | CLICK HERE for the REPLAY of the virtual Lunch & Learn program, to discover how to put money in your pocket for every project you complete. This rebate program is for Builder members, but is beneficial for Associate members to know about too!
March 30, 2021 |  Codes Review Class with City of Minot Inspections Department CLICK HERE to register | CLICK HERE to take a survey regarding content to be covered at this class
April 13, 2021 |  Accessible and Universal Homes, presented by Scott Burlingame of Independence Inc. | CLICK HERE for the REPLAY | CLICK HERE to learn more about Independence Inc.
May 19, 2021 |   City Leaders Luncheon
October 20, 2021 |  Minot Public Schools Realignment Project, present by Mark Vollmer, Superintendent of Schools | CLICK HERE to register and see more details
November 2021 |   TBA
December 2021 |  (tentative) City of Minot Inspections Department: Online Building Permits + Inspections Appointments