North Coast Sanitation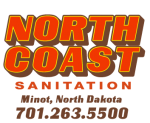 Business Name:
North Coast Sanitation
Business Description:
With on­time deliveries, safe and knowledgeable drivers, our professional office staff combined with well-maintained equipment makes us an efficient and extremely reliable service provider dedicated to quality customer service.
Why use North Coast?
Great customer service is our focus.
Locally owned and operated Minot Company.
Friendly and Experienced drivers.
No long-term lease or agreements.
Easy to read and understand billing.