Mayer Electric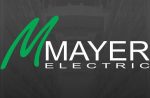 Business Name:
Mayer Electric
Business Description:
Mayer Electric's operations are headquartered in Minot, ND with a branch office location in Bismarck, ND. For over 30 years, Mayer Electric Inc. has grown to be a leader in the industry with an established reputation for providing top notch design, installation, maintenance and support in ALL electrical services!
Keeping up to date with the world's fast paced technology advancements, Mayer Electric's low voltage division, "Mayer Technologies" is also a premier "full service" certified technologies contractor.  Mayer Technologies provides every stage through design to support for projects included but not limited to: Communications Network, Security, Card Access, Surveillance, Fire Alarm, Inside Plant Cabling, Outside Plant Cabling.